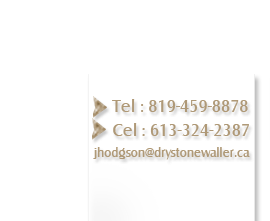 Media

Ailsa Francis: A house, a developing garden and stunning stone work
By Ailsa Francis, Ottawa Citizen, January 29, 2015

Country Garden Transformation, Part 2: Stone Walls and Patio
By Ailsa Francis, HORTUS 2, November 10, 2014

A trade and a woman as tough as stone
The Low down to Hull & Back News, May 28 2014

Country Garden Transformation, Part 1: Stone Walls and Patio
By Ailsa Francis, HORTUS 2, November 18, 2013

Briton brings art of dry stone walling to Canada
By AILSA FRANCIS, THE OTTAWA CITIZEN November 24, 2011

Dry Stone Walling, courtesy Jo Hodgson
by Ailsa Francis, November 29th, 2011

A garden to enjoy --
in every season
by Ailsa Francis, August 11,2011
"This was a backyard that I first met last autumn ..."

As seen in Style at home
April 2010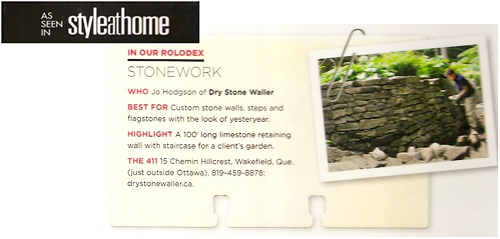 Nanatsiaq News
July 20, 2007

Jo Hodgson - The strength of stone
by Kate Aley, West Quebec Post, 2007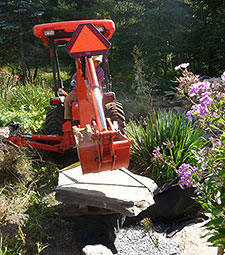 Fittingly, the steps leading up to the entrance of Jo Hodgson's front door are of stone. At first they are unprepossessing; just grey granite, dark with the mid November drizzle. But on closer inspection, it's apparent that no mortar binds the stone and no cement fixes them in place.
They just hold together, a testament to Jo's skill as a dry stone wall builder.
Originally from Derbyshire, England, Jo came to Wakefield four years ago. "I didn't know anything about the area, but I knew I wanted to live somewhere with plenty of scope for outdoor activities and I needed to find somewhere with stone!"
Jo first learned the art of building with dry stone in her early teens, living on her family farm in Glossop, near the famed Peak District National Park. "We had a sheep farm with a lot of walls made of grit stone and limestone. A local farmer, Ben Cook, who was 70 years old, came one day to ask if he might rebuild some walls for us; for free, just because he loved dry stone walling. My sister and brother and I were sent to help and it started there." Jo's younger sister Sal is also a well known dry stone waller in the UK and still lives on the family farm. Her brother Clive farms nearby. England has a long history of using local stone to make barriers to hold livestock. Universities, working with the Dry Stone Waller Association of Great Britain, now offer a practical course to teach the art. "The Association has been around since the 60's," explains Jo. "There are local chapters across the country and even around the world, and people meet for training days and competitions."
Stones for dry stone wall must be irregular and rough, rather than quarried and dimensioned. "If you start by cutting the stone, it's hard to stop doing it," she reasons. The smaller stones used in a wall weigh about a kilo; the largest might be half a tonne. The biggest wall Jo has built was 20 feet high, with a base of 15 -16 feet "This is an unusual job for a woman, still," she concedes. "But placing the stones has a lot more to do with skill and experience then it has to do with strength. Very large stones are put into place with heavy machinery, but the only tool a dry stone waller needs is a rock hammer, and that is used very sparingly. Sometimes teams of wallers might work together for a very big project, but it's usually a solitary job."
Jo and Sal still work together every year, when Jo returns to England during Canada's winter. "It's not so cold in England, so you can wall all year 'round, but here the stones get frozen to the ground and covered in snow." Going back also means that Jo doesn't take too much time off walling. "Selecting the stone and the speed you can work at comes from experience and constant usage of your skill," she states. "You get to know instantly which stone to use or discard when you work; you can't lose the skill but you can get rusty!"
Cold hasn't deterred Jo from getting her hands on rocks further north. She is currently working on a 3-year project to build a large amphitheatre as a meeting place in Iqaluit, Nunavut. "The project also serves to get Inuit trained as dry stone wallers," she says. "They have a cultural heritage of building with stone." The type of rock often dictates the style of building and the appearance of the wall, but the methods are the same. "You never stop learning - every stone creates a new problem. So you must find a way to build that won't make new problems!"
"In the UK, a dry stone wall might stand 90 years before it deteriorates, as there aren't such temperature extremes. But dry stone is perfect for Canada, as the wall is flexible and retains its strength during freeze and thaw. Dry stone has technical strength and aesthetic beauty, and dry stone wallers are passionate about their work."
Kate Aley, West Quebec Post